Monumental masons servicing Hemmant Cemetery
Hemmant Cemetery and Crematorium, located in Brisbane's east between the river and the stunning Moreton Bay, offers lawn burials, cremations, and memorial gardens and walls for ashes. Previously known as Tingalpa Cemetery, the rolling lawns, well-maintained memorial gardens, and the historic monumental area in Hemmant cemetery provide a beautiful place of rest for many of Brisbane's pioneers.
The cemetery also offers a dedicated area for infants and babies.
Lawn beam burials at Hemmant Cemetery
Lawn beam burials at Hemmant Cemetery feature a granite or concrete base with a personalised glass, steel or bronze plaque.
Crematorium services
Hemmant Crematorium offers cremations as well as a selection of memorial options for ashes including:
native garden memorials
touchstones
sandstone rock memorials
niche and portrait gallery wall sites
Cremation ashes can also be interred in graves.
Garden of Peace
The cemetery's Garden of Peace is dedicated to infants and babies, the area features both a SIDS and Bonnie Babies section.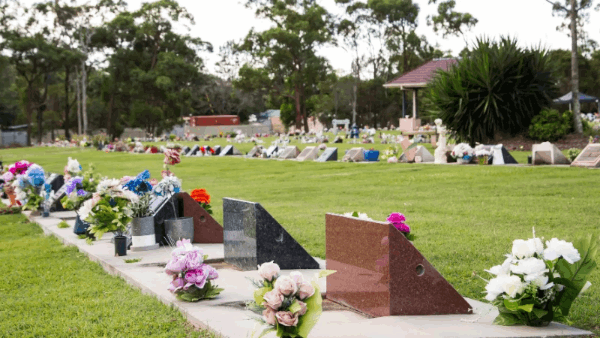 Who takes care of the graves?
Brisbane City Council maintains the cemetery grounds which includes mowing, tree care, lifting and levelling subsided plaques.
Restoration and maintenance of headstones and gravestones are the responsibility of the family and descendants.
Chapel and catering
Hemmant Cemetery has a lovely chapel that can be used for all types of memorial services and funerals. The chapel accommodates up to 86 seated guests and another 100 guests standing indoors and outdoors.
The function space caters for approximately 70 guests, with 50 indoors and another 20 in the outdoor area for post-funeral gatherings. The onsite catering offers morning tea, lunch, and afternoon tea options.
MMS Memorials services in Hemmant Cemetery
MMS Memorials offer a range of services at Hemmant Cemetry.
Contact our caring team for all your memorial requirements at 07 3265 5433 or complete our online quote request form today.
Prices for burials and cremations
Prices for grave plots, burials, cremations, interment, services, plaques and wall niche or memorial garden placement will depend on your requirements. Our friendly team can help with a quote.
Hemmant Cemetery's opening hours
The Hemmant Cemetery is open 6 am to 6 pm every day and the onsite office is open 8 am to 4 pm on weekdays. The cemetery office can be contacted at 07 3403 8888.
More information can be found on the Brisbane City Council website - Hemmant Cemetery and Crematorium