Kulangoor Lawn Cemetery located just north of Nambour on the beautiful Sunshine Coast features rolling lawns surrounded by native bushland. This relatively new cemetery was established in 1987 to meet the Sunshine Coast's increasing population demand.
The cemetery offers burials in the concrete beam lawn area, tree burials sites and monumental sections. As well as cremation ashes placement in black granite wall niche sites, boulevard tree area, or alongside a family tree.
The Sunshine Coast Cemetery office is situated at the entrance to Kulangoor Cemetery the property also has an outdoor chapel which is available for public use.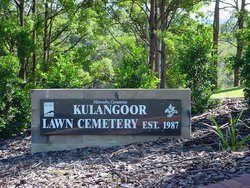 Monumental services at Kulangoor Cemetery
MMS Memorials offers a range of monumental services at Kulangoor Cemetery for all your memorial requirements.
headstone and granite plinth
full granite gravestone
lawn burial base and desk
granite pier for ashes
Speak to our friendly, understanding team about your loved one's memorial at Kulangoor Cemetery by calling 07 3265 5433 or complete our memorial enquiry today.
Kulangoor Cemetery details
The Kulangoor Memorial Sanctuary office at the cemetery is open 8.30 am to 4.30 pm Monday to Friday for burial and ashes placement inquiries. Contact number 07 5459 2300. The cemetery itself is open 7 am to 6 pm each day.