Personalized pet memorial plaques
Creating a beautiful plaque to remember your dog, cat, horse, fish, or any beloved pet, can provide a lasting monument to the part a cherished animal has had in your family life. A personalized pet memorial plaque offers a place to reflect on the loyal, loving experienced you have shared with your pet. MMS Memorials creates top quality custom pet memorial plaques which can be fitted to a memorial stone, pet headstone, or placed in your home or garden.
Premium stone memorial plaques
Our experienced stonemasons can create a memorial plaque from premium natural stone such as granite, marble, or sandstone. Our memorial plaques are custom engraved with whatever details you would like to add as a touching tribute to your treasured pet.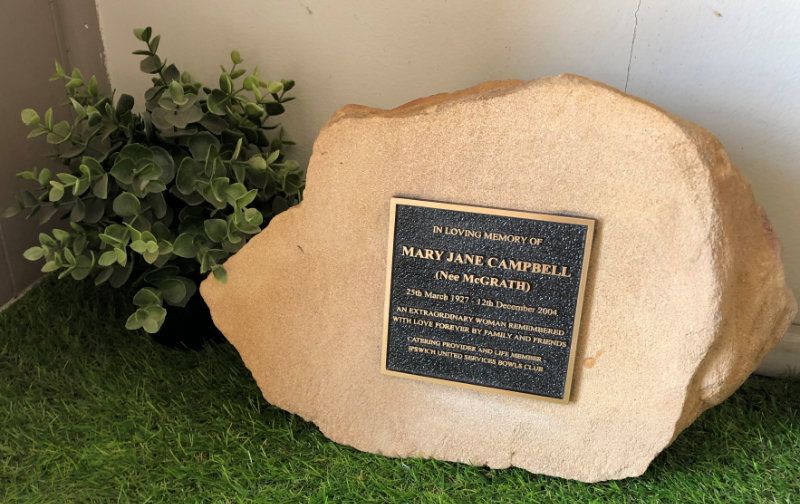 Bronze pet memorial plaque
Bronze memorial plaques
Losing a pet can be a very tough time, many find designing a cast bronze memorial plaque offers an important opportunity to celebrate their lives and the experienced you've shared.
Our range of floating bronze plaques offer a unique memorial to place in your garden, use for an ashes placement, or a pet memorial grave marker.
Floating bronze memorial plaque
Pet memorial plaque design
What you choose to include on your pet memorial is totally up to you. The only limit is the space available. Many pet owners like to include:
The pets name or nickname
Significant dates - birth, death, when they joined your family
A short epitaph
Engraved image - your pet, a favourite toy, paw print, a favourite place to go
A ceramic photo
Wording ideas for your pet memorial
The wording of your personalized pet memorial will be as unique as the memories you've built during their precious lives. Finding the right phrase that sums up a whole lifetime of adventures can be hard during this difficult time so we've put together some wording ideas to help get you started.
Special memories of…
In loving memory of…
Treasured memories of…
In our hearts forever
Much loved and missed
Our beloved friend
Always in our hearts
A loyal friend/companion
You left paw prints on our hearts
Always by my side
Until we meet again
The song has ended, but the melody lingers on (Irving Berlin)
Custom pet memorial plaques Brisbane
Speak to the caring team at MMS Memorials today about creating the perfect pet memorial plaque to commemorate your dearly departed pet on 07 3265 5433or complete our pet memorial quote request form today.
We also offer a range of pet memorial options including:
Pet headstones
Grave markers