Premium quality custom grave stones
At MMS Memorials, we understand that the loss of a loved one is an incredibly difficult time. That's why we offer lovingly handcrafted and personalised gravestones to commemorate their life. Whether you're looking for a gravestone, grave marker or an addition to an existing grave memorial we will have something that fits your needs perfectly, so you can leave a beautiful and inspiring inscription.
Our team is passionate about crafting the perfect gravestone for your loved one that will create a memorial for generations to remember their life. We take pride in our work ensuring that each and every grave stone or marker is of the highest quality.
We want you to feel like your loved ones are always with you, and that their memory is honoured and cherished in the best possible way even after they are laid to rest. Our stones are custom-made to capture your loved one's unique personality and style.
MMS memorials range of gravestones standout from other suppliers due to their quality, finishes, and our stonemason's impressive attention to detail.
What is the purpose of a gravestone?
A gravestone serves a practical purpose which is to identify the burial place (grave) of a person. So by having a gravestone or headstone it is easier for people visiting to find where the deceased has been laid to rest.
On a more personal note, a gravestone is a place where details of the deceased are engraved, such as name, date of birth, and date of death. In addition to these general details, some families choose a personal or significant verse, quote, saying, or symbol to be added. This can give the family a sense that their loved ones' memory will live on, and gives the reader a deeper understanding of the person who is buried.
Other names for a gravestone include:
grave monument
tombstone
headstone
memorial
grave plaque
grave marker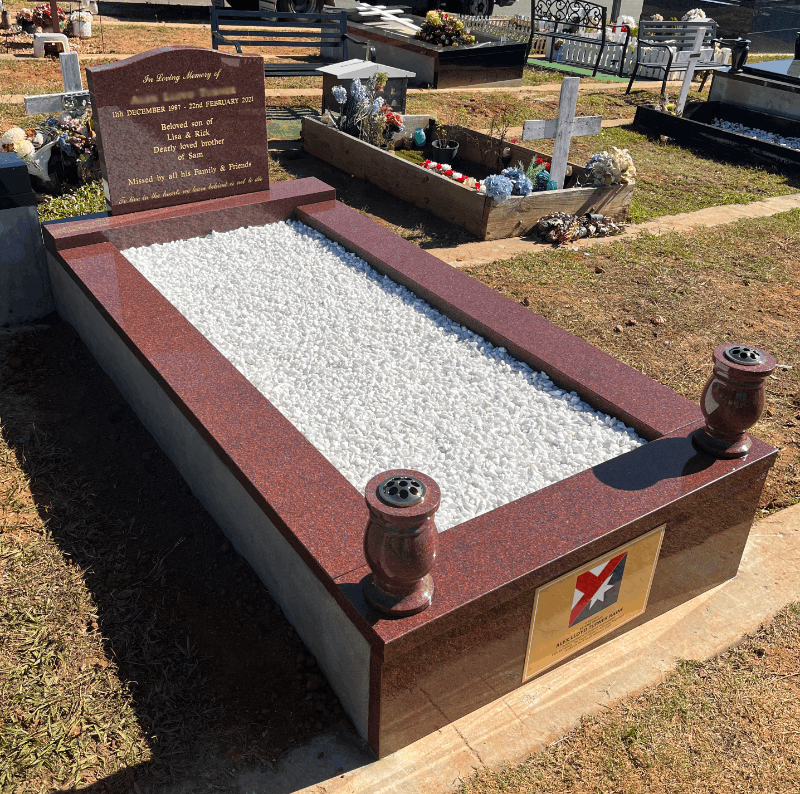 Gravestones of class
We understand that this is a difficult time for you and your family, but choosing a gravestone doesn't have to be. One of our team can talk you through the various options and can help you design a gravestone that will capture your loved one's unique personality and style, ensuring their memory will last for generations.
We have a wide range of styles available and can customise any of the gravestone designs to suit your requirements. Our range of gravestones is made from top quality stone, hand selected by our experienced stonemasons to ensure the longevity of your custom gravestone.
Our Memorial Galleries offer examples of a wide variety of gravestones that are sure to fit a range of requirements. We have options for all needs, so you can find something that is perfect for your loved one's memorial.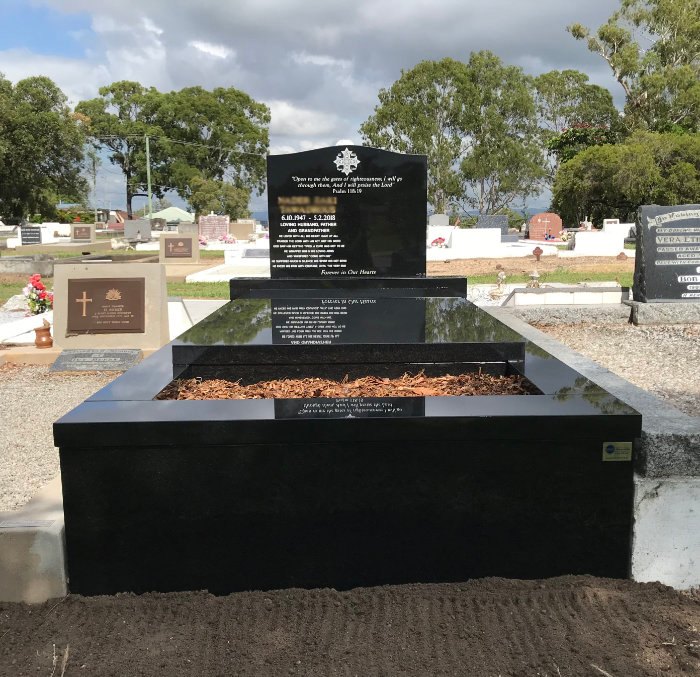 It is imperative to us that your loved one's gravestone meets and exceeds your expectations. We utilise premium stone materials including fine quality granite and marble and can work to your requirements to ensure you receive the perfect the tombstone to match the spirit of your loved one.
On behalf of my family, I wish to thank you for the care and attention you showed throughout this remarkable creation. The headstone you sourced is superb and beyond all expectations. The inscription is flawless, and the grave construction superior.
Thank you so much for helping us lay our father, husband, and grandfather to rest, peacefully.
Doug Scott
Custom gravestones for cemeteries in Brisbane and SEQ
MMS Memorials can customise a range of memorials including gravestones to suit your specific requirements. A memorial is a great way to commemorate a life and offer a place for reflection.
To find out more about ordering a gravestone or tombstones please contact MMS Memorials friendly team to discuss your requirements. Call us on 07 3265 5433 or complete our quote request form to create a beautiful piece to remember. MMS Memorials - understanding and compassion when it matters most.