Memorials, headstones & plaques for placement in Mt Gravatt Cemetery
This 100-year-old Mount Gravat Cemetery and Crematorium in Brisbane's inner south suburb of Macgregor offers burials and cremations, as well as memorial gardens and walls for ashes. The expansive grounds of Mt Gravatt Cemetery cover 197 acres of beautiful native bushland adjacent to the lovely Toohey Forest Park.
Burial options at Mt Gravatt Cemetery
Burial options available at Mt Gravatt include:
lawn beam cemetery
monumental cemetery
below ground vaults
above ground vaults
Lawn cemeteries offer the placement of a memorial plaque on a granite or concrete base which is arranged along a common cement beam at the head of the lawn grave.
Memorial cemeteries offer a range of traditional headstone, gravestone, and vault options which can be created from granite, marble, sandstone, or concrete.
MMS Memorials is an authorised Brisbane City Council monumental mason, our skilled team can create a graceful bespoke gravestone, headstone, vault, or memorial for your loved one.
Memorial sites for cremation ashes
wall niche sites
native memorial gardens
curb memorial gardens
granite gardens
Cremation ashes can also be interred in graves sites.
Memorial plaques can include images, photos, and emblems to allow the family to create a custom memorial for their loved ones.
Many cultures and religions
A diverse array of cultures, religions and ethnic communities are catered for at Mt Gravatt Cemetery, several of which have dedicated areas. These include:
Jewish
Catholic
Muslim
Vietnamese
Russian
Chinese
Serbian
Croatian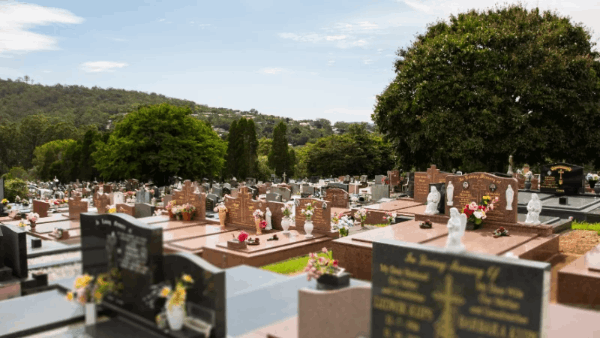 Other services provided at Mt Gravatt Cemetery & Crematorium
As well as the crematorium, memorials and burials the grounds also have a chapel that can be used for all types of memorial services and funerals. The chapel caters for 80 seated guests and an additional 40 standing. Adjoining areas, both indoors and outdoors, can accommodate up to 120 guests for post-funeral gatherings.
The cemetery also has a dedicated returned service personnel area.
Prices for burials and cremations at Mt Gravatt Cemetery
Prices for grave plots, burials, cremations, interment, services, plaques and wall niche or memorial garden placement will depend on your requirements. Our friendly team can help with a quote.
Opening hours
The Mount Gravatt Cemetery is open from 6 am to 6 pm every day and the onsite office is open from 8 am to 4 pm on weekdays. The cemetery office can be contacted at 07 3403 8888.
More information can be found on the Brisbane City Council website - Mt Gravatt Cemetery and Crematorium