Pinnaroo Cemetery and Crematorium
Pinnaroo Cemetery and Crematorium are located in the north Brisbane suburb of Bridgeman Downs about 30 minutes from the city.
The expansive lawn cemetery caters for burials and cremations with options which include:
lawn beam burial - each plot can accommodate up to 3 burials or cremation ashes
cremation - with placement in native or granite memorial gardens, and column or wall niche
The Pinnaroo Lawn Cemetery provides lawn beam burials featuring bronze, glass, or steel plaques set on a concrete or granite base.
Each memorial is expertly handcrafted by highly skilled stonemasons.
The spacious onsite memorial chapel is available for all types of funeral services and can accommodate 85 seated guests and an additional 40 standing guests. The chapel is fitted with audiovisual equipment for the showing of videos, music or still images. The cemetery function rooms can be used for post-funeral gatherings offering a range of catering options.
Returned Service Burials
Returned service personnel and their spouse have dedicated burial or cremation wall areas within the cemetery.
Garden of Remembrance
The Garden of Remembrance located within Pinnaroo Cemetery is managed by the Office of War Graves and remembers those who died in or as a consequence of war.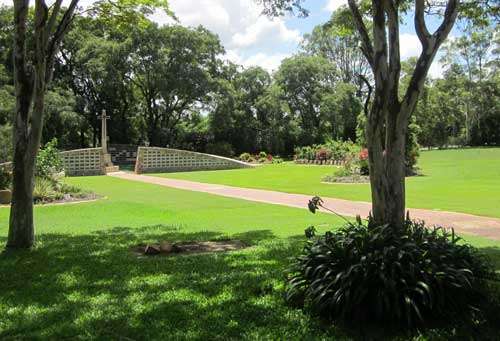 Prices for burials and cremations at Pinnaroo Cemetery
Prices for grave plots, burials, cremations, interment, services, plaques and wall niche or memorial garden placement will depend on your requirements. Our friendly team can help with a quote.
Opening hours
The Pinnaroo Cemetery is open 6 am to 6 pm every day and the onsite office is open 8 am to 4 pm on weekdays. The cemetery office can be contacted on 07 3403 8888.
More information can be found on the Brisbane City Council website - Pinnaroo Cemetery and Crematorium
Local Cemeteries in Pinnaroo Cemetery Crematorium
MMS Memorials
Hear From Our Customers
On behalf of my family, I wish to thank you for the care and attention you showed throughout this remarkable creation.
The headstone you sourced is superb and beyond all expectations. The inscription is flawless, and the grave construction superior.
Thank you so much for helping ...