Restoration and Repairs for memorials in Brisbane & SEQ
With age monuments can get affected by weather and which may begin to fade the inscriptions and stone over time. Our team offers memorial restoration services bringing the memorial back to its original glory. Whether the stone monument has faded over time or the memorial has cracks or chips, we can restore the memorial so it looks beautiful for years to come.
MMS Memorials started operating in 1976 and has been providing caring and compassionate service to the local community since. We serve private cemeteries, monuments, stone plaques and cemeteries in Brisbane, Gold Coast, Sunshine Coast, Tweed Heads and Ipswich councils. Contact us today for memorial restoration services.
BOOK MEMORIAL RESTORATION SERVICES
Common memorial restoration issues
Monuments can get damaged over time due to vandalism, weather, age or insufficient maintenance. Some of the most common issues we have fixed include:
Worn-off polished finish that makes the stone dull and dirty
White spots or stains on the stone
Cracks or chips on the stone
Vandalised monument
Faded lettering or inscriptions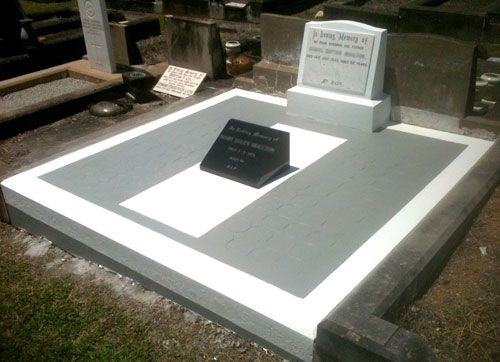 Expert workmanship by our skilled stonemasons
Our expert stonemasons can restore the memorial on site with minimum disruption. We provide top-quality restoration services, attention to detail and 100% customer satisfaction. Our restoration team uses the best and top-quality Australian or imported stone like marble and granite, custom selected for each project from small memorial repairs to heritage stone renovations.
Our memorial restoration services
Monument restoration - Cleaning and polishing
Re-gliding of letting or additional lettering
Painting
Stone removal
Bronze Plaque restoration
Carving
Replication
Ceramic photo plaque restoration
For some examples of our stone restoration work take a look at our memorial restoration projects including the Vaughan gravestone restoration and the Watkins headstone and restoration.
Memorial Restoration Services South-East Queensland
Our team of caring and experienced professionals will work with you to repair and restore the memorial of your loved one.We Contact us on 07 3265 5433 or complete our memorial restoration quote request today.
Frequently asked questions
If you are in need of a little assistance when it comes to funeral planning, take a read of our easy-to-follow guide or call us for assistance.
Read More..
With a careful, gentle hand & a bit of elbow grease, you can clean a headstone or grave marker making it easier to read and restoring some of the stone's beautiful finish
Read More..
There are over 10 Brisbane crematoriums to use for cremation services. Find out more about Brisbane cemetery cremation services.
Read More..