The lovely, well-cared, Nudgee Cemetery and Crematorium has been used as a place of rest for Brisbane residents since 1867. The facility is managed by the Corporation of Trustees of the Roman Catholic Archdiocese of Brisbane but it is open to burials of any denomination, faith, or religious belief.
The Nudgee cemetery is the oldest Catholic-operated property, as well as Brisbane's largest private burial ground.
The stately crematorium was completed in 2014 and offers cremations as well as cremation services.
Burial options in Nudgee Cemetery
The burial and cremation ashes placement options within Nudgee Cemetery are vast with the facility catering to everything from an expansive stone mausoleum to a memorial garden for ashes or a sprawling lawn cemetery.
The facilities include:
Crematorium
Lawn cemetery - each burial has a headstone (headstone design limited), and each plot can cater for up to 3 burials
Monumental lawn - each burial has a headstone (range of styles and stone options), two burials per plot
Monumental cemetery - allows for personalised designs of headstones or gravestones as well as more elaborate memorials, two burials per plot as well as ashes interment
Above-ground vaults - single, double or custom vaults available, concrete construction finished in granite.
Family chapels - a single concrete unit of either 8 or 10 beds, designed to accommodate families, chapels have a lockable door and are finished in granite
Community chapels - large concrete units built to house 16, beds sold singly or as a pair, finished in a choice of granite, with the inscription on the granite or bronze plaque
Memorial gardens - for the interment of cremation ashes, each ashes placement is marked with a bronze plaque
St Brigid's Garden - a dedicated area for baby burials, small headstones or gravestones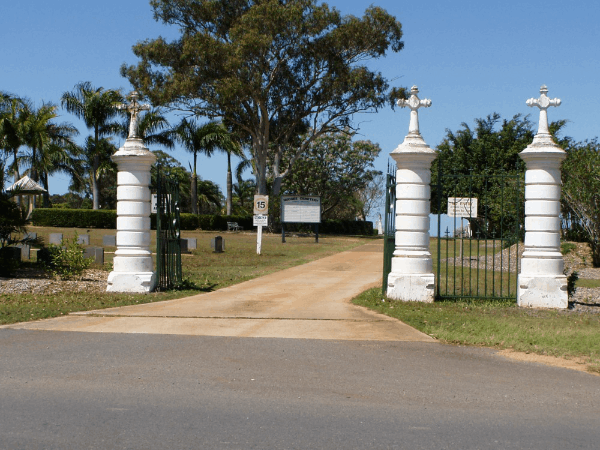 Memorial services we offer
MMS Memorials offer a range of monumental masonry services in Nudgee Cemetery including:
Speak to our friendly team about your memorial requirements in Nudgee Cemetery and Crematorium by calling 3265 5433 or complete our quote request form today.