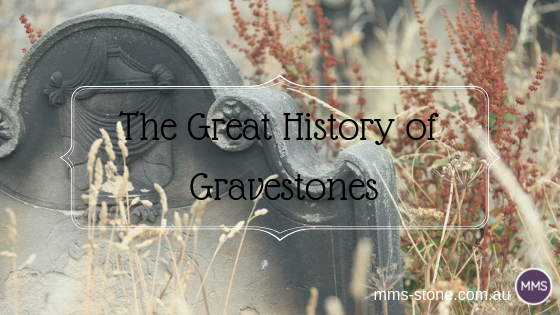 The Great History of Gravestones
While the topic of gravestones is usually associated with the sadness of losing a treasured loved one, the history of how this important marker came to be is actually quite interesting.

The first Gravestone: Still a mystery?
Due to the original composition of the first gravestones being weathered through history, it is hard to say when the first gravestone was created. There is substantial evidence to suggest that the very first gravestone even dates back thousands of years to Roman and Celtic cultures. As modern technology progresses, new discoveries are still being made about the origin of famous and mysterious ruins. Historians have recently come to believe through new evidence that the Stonehenge was actually a huge burial site.

While the date of creation for the first gravestone remains shrouded in mystery, what historians have been able to discover is the reasoning behind this now modernised practise.

This practise while varying greatly worldwide in terms of material used and superstitions, shared a common theme of marking a grave by inscribing the deceased's name, age and date of death to signify who was buried there. The practise of inscribing a small sentimental quote was only developed much later on in history as elaborate burial customs gained traction.

Gravestones: What are they made of of?
The materials used to create gravestones has consistently varied through many social, political and economical factors throughout history. Wood, marble, granite, bronze, sandstone have all been used as gravestones depending on the time and place in history, however granite remains the most popular material used today due to its price and durability.
MMS Memorials has a large range of quality materials to choose from when designing a gravestone combined with our stonemasons incredible attention to detail. Speak to our experienced team for any questions you may have, we're here to help.

Surprising Superstitions about Gravestones
Throughout history, it was believed that placing heavy objects on graves such as rocks and sticks was a way to prevent the dead rising, a superstition practised by many in 18th century Britain. This created the phrase "grave-stone" and from this superstition came the original construction of stone coffins. In modern times, the terms tombstone, headstone, gravestones or grave markers all refer to the entire monument including the headstone and base.

Originally a tombstone was the stone lid of a stone coffin or the coffin itself and the gravestone was the slab that was laid over the grave. A headstone has always been referred to as a marker of stone at the head of the grave with an inscription on it.
The Monumental Masonry Team have been the stonemasons of choice since 1980 and the experienced team can assist you with any gravestone enquiries or requests to create your ideal piece. Contact our team today on 07 3265 5433 or complete our quote request.